"New Innovation Indicators – From Research to Policy Application" – 10th March at Fraunhofer-Forum Berlin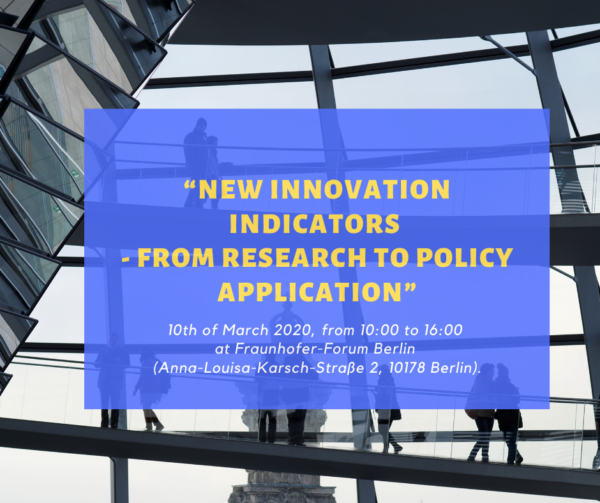 Research and innovation (R&I) are constantly evolving, which is why the indicator system needs to be further developed in response to emerging topics as well as newly available digital data.
This need has been approached at the European level as well as on the Member State level through various public funded programmes. The European Commission for example has been funding EURITO – a 36-month project ending in December 2020 – which aims to develop a new generation of relevant, inclusive, trusted and open indicators that can be used to plan, monitor and evaluate R&I policies if possible in real time.
The German Federal Ministry of Education and Research (BMBF) set up two rounds of funding for the "Further development of the indicators for research and innovation". Researchers in 14 funded projects aim to close gaps in the existing R&I indicator system by testing new research approaches and improving the instruments of innovation measurement. The goals are to expand the concept of innovation to a broader scope, to apply new data and research methods – especially by using the benefits of digitization – and to map networks and knowledge transfer. Similarly to the EURITO project the end of the first funding round is set up to be at the end of 2020. Since the end of the research projects approaches first findings and results are ready to be shared and discussed.
Therefore, we organised the joint workshop of BMBF and EURITO on:
"New Innovation Indicators – From Research to Policy Application"
10th of March 2020 from 10:00 to 16:00 at Fraunhofer-Forum Berlin (Anna-Louisa-Karsch-Straße 2, 10178 Berlin)
The workshop provided an overview of the results achieved so far by the EURITO project as well as various projects of the BMBF projects. In addition, representatives of the European Commission, the OECD and the BMBF provided relevant input on policymakers' needs regarding R&I indicators. This was followed by a discussion with all participants on the effective use of the results and their transfer into the process of policymaking. In addition to that, there was a session which gave the opportunity to exchange ideas with the representatives of the scientific community and actors of political decision-making alike.
For detailed information about the event you can find a detailed schedule below.
10.00 Welcome. Dr. Eveline Edle von Gäßler (BMBF) & Prof. Dr. Knut Blind (Fraunhofer ISI)
10.15 Project Presentations
12.45. Lunch
13.45 Interactive discussion and collection of user needs. Chantale Tippett (NESTA)
14.30 Policymakers' needs regarding R&I indicators and discussion of implications for innovation policy. Moderation: Prof. Dr. Knut Blind (ISI)
Germany: Dr. Dietrich Nelle (BMBF)
Norway: Svein Olav Nås (The Research Council of Norway)
European Commission: Representative of the European Commission to be confirmed
OECD: Fernando Galindo-Rueda, PhD (NESTI)
16.00 Closure and networking. Sandra Rohner, Dr. Matthias Bürger (VDI/VDE-IT)
If you have any questions or require further information please contact Pilar Caro (+34 914 36 47 74, pilar.caro@cotec.es); Dr. Katharina Pijnenburg (+49 030 18575235, katharina.pijnenburg@bmbf.bund.de) or Dr. Matthias Bürger (+49 030 310078-5618, matthias.buerger@vdivde-it.de).